Lil Nas X, Ezra Miller, and Billy Porter Among Biggest LGBT Style Icons of 2021
Nasty Gal has ranked 2021's biggest style icons across different areas including LGBTQ+ icons, actors, and social media influencers. Using factors such as the number of Instagram followers, Instagram engagement rates, average estimated earnings per post, and Google search volume for each of our stylish celebs, we've got the ultimate breakdown of 2021's most fashion-forward public figures.
2021's Biggest Style Icons in the LGBTQ+ Community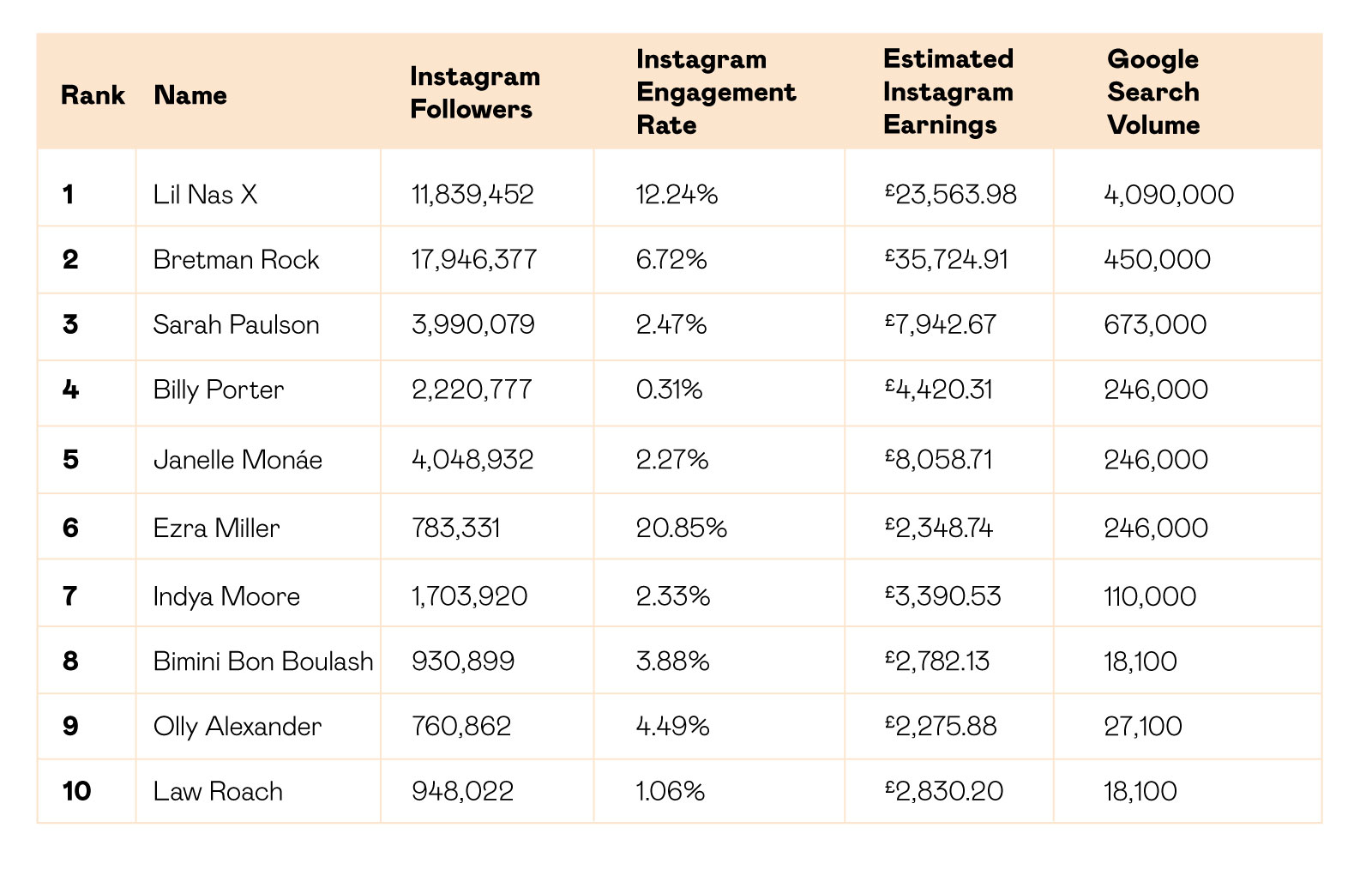 1. Lil Nas X
Taking the crown for being the biggest style icon in the LGBTQ+ community is Lil Nas X. Never afraid to push the boundaries in music and fashion, Lil Nas X has risen to stardom in recent years. Known for his use of bold colors, daring twists on classic styles, and self-expression through genderless clothing, his style is walking art. There were over 4 million Google searches for the star this year, showing his ability to leave a lasting impression and fans wanting more.

2. Bretman Rock
The winner of an MTV Award this year and the first openly gay man to feature on the cover of Playboy magazine, Bretman Rock has been pioneering modern style since he first came into the public eye with his phenomenal make-up skills. The fact he wore Aaliyah's (yes, the actual Aaliyah!) Roberto Cavalli dress for the VMA red carpet is enough to cement style icon status alone. Being the only star to appear twice in our study shows how Bretman's style is adored by a range of audiences.

3. Sarah Paulson
An icon in more ways than one, Sarah Paulson, is known for her ability to transform into any character, and she brings this magic into her personal style. Mixing vintage Hollywood glamour with effortlessly chic daytime ensembles, she's one of the few stars who can truly pull off any look.

4. Billy Porter
LGBTQ+ icon and actor Billy Porter has been one of the driving forces for genderless fashion. Regularly rocking the red carpet wearing ball gowns, skirts, and of the course, his iconic tuxedo dress. He's a true fashionista both on and off the screen, with his leading role in Pose showcasing the fashion influences of the 1980's ballroom scene.

5. Janelle Monáe
Known for styling black and white ensembles with a pop of color (usually a statement red lip), Janelle Monáe demonstrates how daring you can be with a simple color palette, making monochrome her statement style.